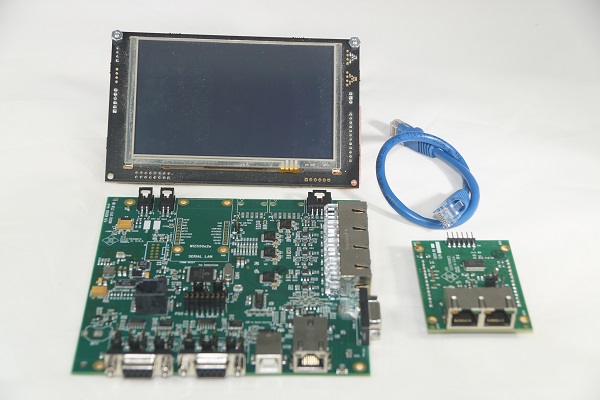 MSCS

Modular Switch Control Systems

Control RF Switch Matrixes up to 100x100 and other devices with a Color Touchscreen panel.
Remote Control with Ethernet, USB, or Serial using SCPI or MODBUS commands.
Modular System Controls designs and manufactures off-the-shelf systems to control RF switching systems and matrixes, attenuators, synthesizers and other devices for OEM applications. Standard firmware allows the OEM to easily configure special systems and switch matrixes with minimal NRE. Control is via an optional color touchscreen display and/or via Ethernet TCP/Telnet, USB or serial (RS232, RS422 or RS485) interfaces. Command protocols include IEEE-488.2, SCPI, MODBUS TCP/IP and MODBUS RTU. The system also supports a HTML embedded web server for web browser access. The above picture shows the touchscreen display, a MSC02 Controller board and an I2C01 module. The modules can be custom programmed to control specialized circuitry including analog I/O and DDS synthesizers.
*** NEW PRODUCT ***
SW64D 64 Channel Switch Driver Board

Modular System Controls has just introducted a new 64 channel off-the-shelf switch driver board. You can now assemble a complete system with standard boards and no NRE. Eval boards are now available!
Get the details here: SW64D
Modular Switch Control System
The Modular Control System is designed to minimize NRE and RE in OEM control systems for RF switches and other devices. The modular design using standard Ethernet cables for interconnection significantly reduces the amount of chassis wiring in a typical system. Common approaches with standard parallel I/O boards result in large bundles of wires routed through the chassis increasing complexity and production costs. The OEM can quickly configure a control system using proven off the shelf boards and modules. Our engineering staff will assist in the configuration of your system thus freeing up your staff to concentrate on the overall system..
The Modular Control System consists of a MSC02 Modular System Controller Board and as many SW64D Switch Driver boards or I2C01 Modules with I/O boards as needed. The modules are connected to the System Controller Board by I2C serial buses using standard Ethernet cables. Modules have two parallel connectors so they can be "daisy chained" on the buses. Each Module can support up to 512 I/O lines on the users I/O board. Each of the 3 I2C buses can support up to 112 modules to provide virtually unlimited I/O.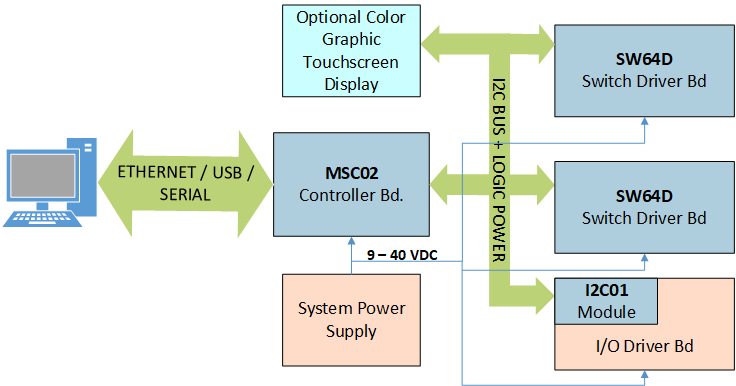 The Modular System can be controlled by an optional local color touchscreen display or remote controlled and configured by a computer using Standard Commands for Programmable Instruments (SCPI) and IEEE 488.2 commands. MODBUS TCP/IP and RTU commands can also be used for control (requires MSC02M option).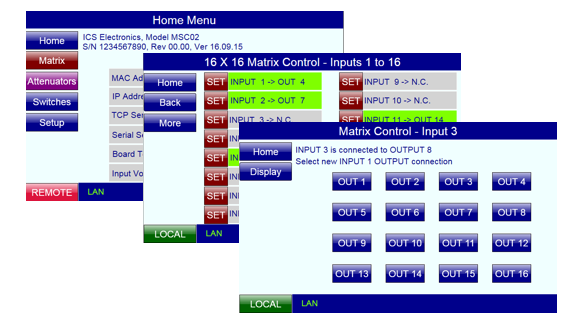 The touchscreen control is via a system of menus with different screens available for each control function. Some example screens are shown above. Please refer to the Modular Control System Data Sheet on the Products page for additional information.
07/09/2019